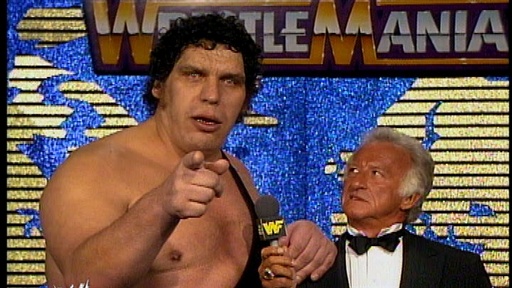 By Rich Tarantino
It is safe to say that the speculation surrounding Mickey Rourke's appearance at this year's WrestleMania event is a huge deal. Of course, not only is Rourke a very talented actor but the Sin City star is also nominated for an Academy Award for his role as the washed-up and battered ring warrior Randy "The Ram" Robinson. Single handily,this would be the greatest celebrity appearance in the 25 year history of the extravaganza a star-studded list that includes among others the great Bob Uecker, the late Ray Combs and of course my personal favorite Liberace proudly prancing around the ring at the inaugural 'mania with the world famous Rockettes in tow.
I may be in the minority here, but I think if Rourke plans on going to the big dance it should only increase his chances of winning the Best Actor Oscar. But who am I kidding I am the one who wakes up early Saturday morning just so I can put my DVR to good use and watch the adventures of the Impact Zone starring Black Machismo and Sonjay Dutt all the while I should be cuddling in the bedroom with my five-and-a-half-month pregnant wife. Yes, that's me I am the guy who can't name every state capitol or United States president but you can bet I can list every Royal Rumble winner starting with Hacksaw Jim Duggan in 1989. I can also name the mid-carder who replaced Tully Blanchard in the Four Horseman (Pretty Paul Roma in case you were wondering) circa 1993. Does it matter that I would rather pop in a DVD and watch Magnificent Muraco's Hall of Fame acceptance speech than Barack Obama's inaugural speech? To me both speeches were historical on some level except for the fact that Muraco's included an introduction by Mick Foley and no doubt included a shout out to Mr. Fuji. Bottom line: Rourke's work in Darren Aronofsky's film The Wrestler should not be frowned upon because the guy wants to spend an April afternoon making a few extra bucks wearing tights and taking bumps for what figures to be longer than 20 minutes or so.
Take note Academy: give Rourke what he deserves. Now if you excuse me I need to give my wife a great big hug or at least pour another bowl of Fruity Pebbles.