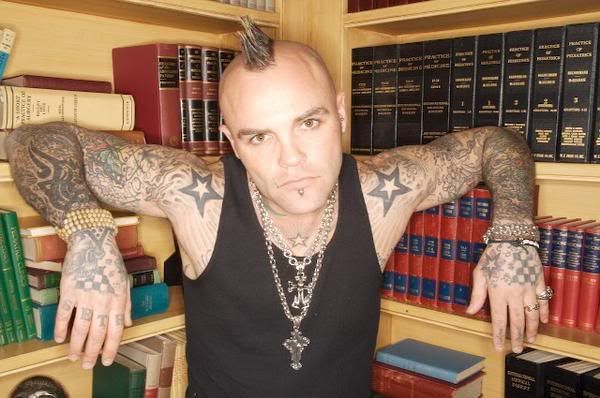 Don't call it a comeback….
We have a Season 1 casualty.. and it's not Jessica Sierra. Turns out Seth "Shifty" Binzer has not only fallen off the wagon, but he took 2 gerbils named Keith Richards (yes) and Rick James (yes) with him. What happened is unclear; but Dr. Drew was summmoned to a hotel by the rocker's sponsor to find him emaciated and hopped up on crack.  After he agreed to check back into PRC..he had terms. He wanted to go out in a blaze of glory, if you will.  A truly exasperated Felix (sponsor) drove him around as he scored more drugs. A 1-hour road trip turned into the junkie's 3-hour tour complete with said gerbils, a Slurpee, a 40, and a standoff only reality television would air. Shifty was having his own little party on the roof of the PRC at the end of the episode..
Nikki continues to mourn the loss of her mom, and Dr. Drew and Bob think finding her something to keep busy will amp up the grieving process more. So what better way to do it than try to get the creative juices flowing. Nikki hasn't performed or written any songs during this time; and it was frustrating her to no end. Somehow, she found a few sentences to express her emotions in her little notebook. Her concern lies in the after-treatment process. Sober living would seem the logical choice..but for now, the money is in the performing. Herein lies her dilemma…
Another backpain..another meltdown. That was where Jeff found himself this week as he totally enamored himself again at the thought of having another round of surgery. Once he felt he was ignored by Dr. Drew; he took matters into his own hands with his cane. And it was there we discovered his cane is a weapon of mass destruction. As his meltdown peaked, the rehabbers went with the flow and predicted each step of the way what was going on..up to and including packing his bags.
Amber's recovery and discovering new emotions saw her in the midst of a triggered anxiety attack at a mission center where her, Tawny, Sean, and Shelley spent their day. Coming pretty close to being one of the statistics that entered the palce; Amber emotionally shut down and couldn't deal with the notion of continuing performing selfless acts of servitude for those in this case less fortunate than her. later, she shared a moment with Sean comparing which of the Beautiful People were self-conscious of their performances in the bedroom when Sean was dealing with his relationship issues and women. Do we have another reality show couple in the making?  "My Fair Addict" sounds like a great title.