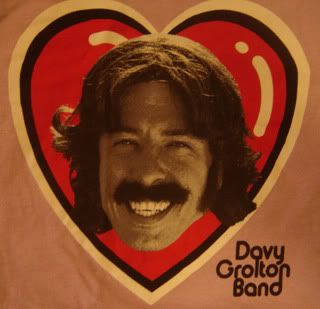 By Allie Tarantino
Dave Grohl is a mustache enthusiast! During last night's Foo Fighter encore at Madison Square Garden he dedicated "Big Me" to all the mustache sporting fans that have been coming to their shows during the band's thirteen year existence. He urged youngsters not to grow out a mustache like Burt Reynolds because "it just won't work." He did, however, applaud his fans who were not showcasing "ironic" mustaches.
After the mustache moment, Grohl proceeded to play a stirring duet of the aforementioned hit from the Foo's first album with cellist Jessy Greene. Last nights show follows the Foo Fighter's just days after a Grammy victory and this was clearly their best of the five shows I've been fortunate to witness.
Grohl has managed to take this act from places like NYC's Roseland to Madison Square Garden. I can still remember the summer before the Foo Fighter's debut album when a friend told me Grohl planned on fronting a band as lead guitarist. Dave Grohl, Nirvana's drummer?!!? A lead singer and guitarist?! That couldn't work?! Well thirteen years on Grohl is stronger than ever.
The Foo's opened up as an eight piece band with the first two songs from their recent album Echoes, Silence, Patience, & Grace. After "The Pretender" the band tore into a history of hits. The biggest thrill for me being "This is A Call" from the eponymous debut album. Nate Mendel (bass), Taylor Hawkins (drums) , and Chris Shifflett (guitars) rounded out the sound, but Grohl displayed the biggest improvements as he ditched his old habit of burping during or after songs. There was also an improved vocal quality to his singing and nobody in music today relishes or plays the part of rock n' roll front man better.
Later in the show, The Foo's returned to their eight piece set on an acoustic stage in the middle of the arena. Beautiful renditions of "Skin and Bones" and Nirvana B-side "Marigold" were followed by MSG's first ever triangle solo (by percussionist Drew Hester) and Taylor Hawkin's fun "Cold Day in the Sun." The acoustic set ended with Grohl performing "Everlong" on his own only to be joined by the rest of the band for the finish.
After negotiating with the audience via video the amount of encore songs the Foo's settled on three. They ended with "Best of You" and everyone left feeling they had gotten the best of the Foo's.
Parts of the show was on the FUSE network so hopefully you caught some of it. Tonight the Foo Fighters will appear on Letterman.Check local listings for air time. The tour continues in Philadelphia on February 21st. Make sure you get there to see Serj Tankian perform his debut album. as the opening act.