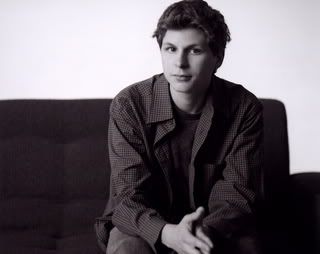 Photo/Tim Leyes
Superbad star leaves the frozen banana stand behind
By Jon Chattman
Who doesn't miss George Michael? The booty shakes at the burning jukebox…the Jitterbug… those sexcapades in the bathroom and naps in his car… oh wait, not that George Michael. We're talking about that brilliantly awkward teenager from the ill-fated classic comedy Arrested Develolpment. It may only be a year-plus, but we sorely miss Michael Cera's portrayal of George Michael Bluth. Whether it's sharing a peck with his transparent girlfriend, bunking with his homosexually-challenged uncle, hiding love letters from his cousin, or serving up some frozen bananas, our lives have simply not been the same without him.

Yes, our hearts are empty over Arrested Development's short-lived run (seriously people, we have to move on at this point), but there's good news to report – Cera's plate is filling up. Crappy segue aside, there's no denying the 18 year old is on the verge of movie stardom. This summer, he'll star in what could be a surefire sleeper – Superbad, a teen sex comedy by the creators of The 40-Year-Old Virgin. In addition, he'll appear in two other films – the long-delayed comedy Parental Guidance Suggested and Director Jason Reitman's highly anticipated follow-up to Thank You for Smoking entitled Juno. That dark comedy finds the actor reuniting with his Arrested dad Jason Bateman as well as Alias alum Jennifer Garner.
Cera is also wrapping up an Internet comedy series for CBS entitled Clark and Duke. That mockumentary centers on two aspiring producers without a clue. We were fortunate to speak with our favorite Bluth about all of his future endeavors.
When did u know Arrested Development was over for good?
I guess when they didn't pick us up for another season – when they announced their line-up for what would be our fourth year. For our third season, they didn't order a back nine and that was kind of an indication. Instead of cancelling us, they just didn't pick us up which is kind of a more subtle way to go out so that the critics or fans of the show wouldn't bash them as much. Everyone was pretty certain, but I still had hope.
We're still in mourning over it…
It was kind of deflating, but I think there's something nice about ending it early – not that it was a choice.
I hear you. Did it ever really get close with another network?I know Showtime was mentioned a lot…
Yes, I know it was close. They got the money. They figured how much money it would take, and they came up with it. [But] it took a long time going back and forth, and [creator] Mitch Hurwitz ultimately decided he wanted to end it. Personally for him, the writers worked seven days a week, he had two little daughters, and I think he just wanted to take some time. He felt good about show, and kind of wanted to step back and do something else.
In terms of your character, how'd you make him so amazingly awkward?
It was pretty clearly written. A lot of characters are different parts of Mitch. I know when he was growing up, he had a cookie stand he worked in with his brother. I feel like if GeorgeMichael grew up, he'd be a guy like Mitch. It's not really me, but it's not far from me. You know people like that growing up – people who just really don't know how to talk to girls or sound cool. Like right now for instance…[Laughs] It was written perfectly for that kind of kid, and I just knew who that kid was.
You're 18 now… would you characterize yourself as a "normal teenager?"
I guess so. I try to be. I didn't really go to high school. I went to ninth grade then I did [the rest] over the Internet, which I guess isn't normal. But, I do normal things. I sit around a lot.
You're living in Canada still… Are you staying away from the Los Angeles lifestyle?
I don't have any work there at the moment and that'd be more of a motivation to get a place there. I figure that'll happen eventually, and I'll try to get a place there.
Maybe after Superbad opens? The trailer is hilarious, and it could be a sleeper this summer…
I don't know. I feel like if I start to think like that, no one would like the movie. I think it's funny and we'll just see if people think it's funny.
How'd the project come about? I know Arrested's Greg Mottola directed it…
I like Greg a lot, but [he] wasn't really involved in the auditioning process until they were bringing me back to read with other kids. I basically auditioned for it, read for a few different parts, but mainly the part I ended up playing. They kept bringing me in to read. It felt like I was part of the casting, but I didn't actually have [the part] yet. It was a pretty standard process.
Are there any traces of George Michael in your Superbad character?
Not far off. It's less of an exaggeration of the whole awkward thing. It's based on the guys who wrote it – Seth (Rogan) and Evan (Goldberg). They just really wanted to make them normal kids.
You have other projects going on aside from that film. How'd the whole InnerTube thing come about for CBS? Do you think online series are the wave of the future?
I don't think they are. I don't watch them. But, apparently these networks have a good feeling about it. I don't know. If something's good, or someone turns me on to it, I'll watch it but I'm not going to like sit on my computer and look for my new favorite show by going to these websites. If networks are going do that, then they have to put a lot more care into these shows. They're treating them like Internet shows – not like something that's going to hit. They're not putting a lot of money into it. They're not really letting people have a whole lot of creative control.
What's the show essentially about?
It's called Clarke and Michael . My friend (Clark Duke) and I became friends during the second season of Arrested. He was my neighbor, we kind of bonded over Weezer, and we had the same sense of humor. We're playing exagerated – more idiotic and more deluted versions – of ourselves. We're trying to write and sell a show. We're really confident but it's clear to the audiences we obviously don't have any chance. We think we're the hot young studs, but the whole point is we don't learn anything. We kind of modeled it after Adult Swim and wrote it with that sensibility [10 minute episodes
And it'll be on the web soon?
Yeah, we just finished editing. Hopefully, [it'll] be good for a word of mouth thing. I just don't know how they plan on getting people to watch it. I've never seen any billboard or ad for any Internet show, so they must be depending on word of mouth.
Are you an avid Internet user?
Absolutely. That was our ammo whenever we had an argument with these CBS guys. It's like we're the audience. I spend a lot of time on my computer I know. They can try to sell me on something or convince us something's going to work, and I'm like 'it's just not true.' A lot of time, I think these guys get too caught up in thinking they're doing the right thing, and they go after that with such conviction. Honestly, I spent a lot of time, and I've never been directed to any Internet series.
Getting back to television. Are you too jaded over Arrested to do another TV series?
No, not really. A lot of people ask me if I'm bitter. I don't think there's any reason to be bitter. I mean the show never had great ratings. Fox had enough faith to bring it back for three seasons. That was in no way brought on by ratings. Critics liked it and they liked it. I think we had a great run. The only way I'd ever go back is if something was funny and worth doing. It's hard. You're spoiled when you do a show like that. You don't want to do something unless you feel like it'll compare with it.
Totally. Do you think Arrested was just before it's time. I just feel like if it broke after The Office or My Name is Earl, you'd have a fighting chance…
I don't think it was ahead of it's time. Larry Sanders and the British Office, those worked.
I don't know. The Office you can jump in anytime and get the concept, and enjoy it. With Arrested, half of the jokes were all self-referential. If you didn't watch from episode one, you couldn't really know what the whole story was about. It's hard to jump in even if it was highly recommended by a friend. If you just jump in and watch one episode, I don't think you'll find it that funny. Who's going to understand half the jokes are character based and referring an earlier episode.
What projects are you most interested in pursuing?
I feel like I'm in kind of a touchy time to be working. I'm 18, and it's easy to get peguin holed. I don't want to make any big mistakes. I'm kind of oversensitive if I'm in a movie and what part I'm playing. I'm kind of feeling everything out. There's always scripts that I like. It takes a lot for a movie to get off the ground. A lot of times the scripts I like don't have money or anyone attached.
Speaking of money, Rick Moranis was money back in the day. He's a fellow Canadian – is he underrated in your eyes?
I love him in Ghostbusters – one of my favorites ever. I prefer him in that role: the small guy in the movie that you can just savor…not too big of a part. Maybe its just Ghostbusters-specific.
What's your favorite George Michael song?
Can I just say a Wham song? It's really all I know – Jitterbug Wake Me Up (Before You Go Go).
Lovely. Last question… if people had catchphrases, what would yours be?
Who let the dogs out? I end up saying that a lot but I don't think that phrase has been popularized yet. I don't think the world has heard that yet.
5 Responses to "Arrested Development's Michael Cera"
Comments